From Physical to Digital: how technology shapes the future of gaming in retail_PGRI Magazine_Nov-Dec 2018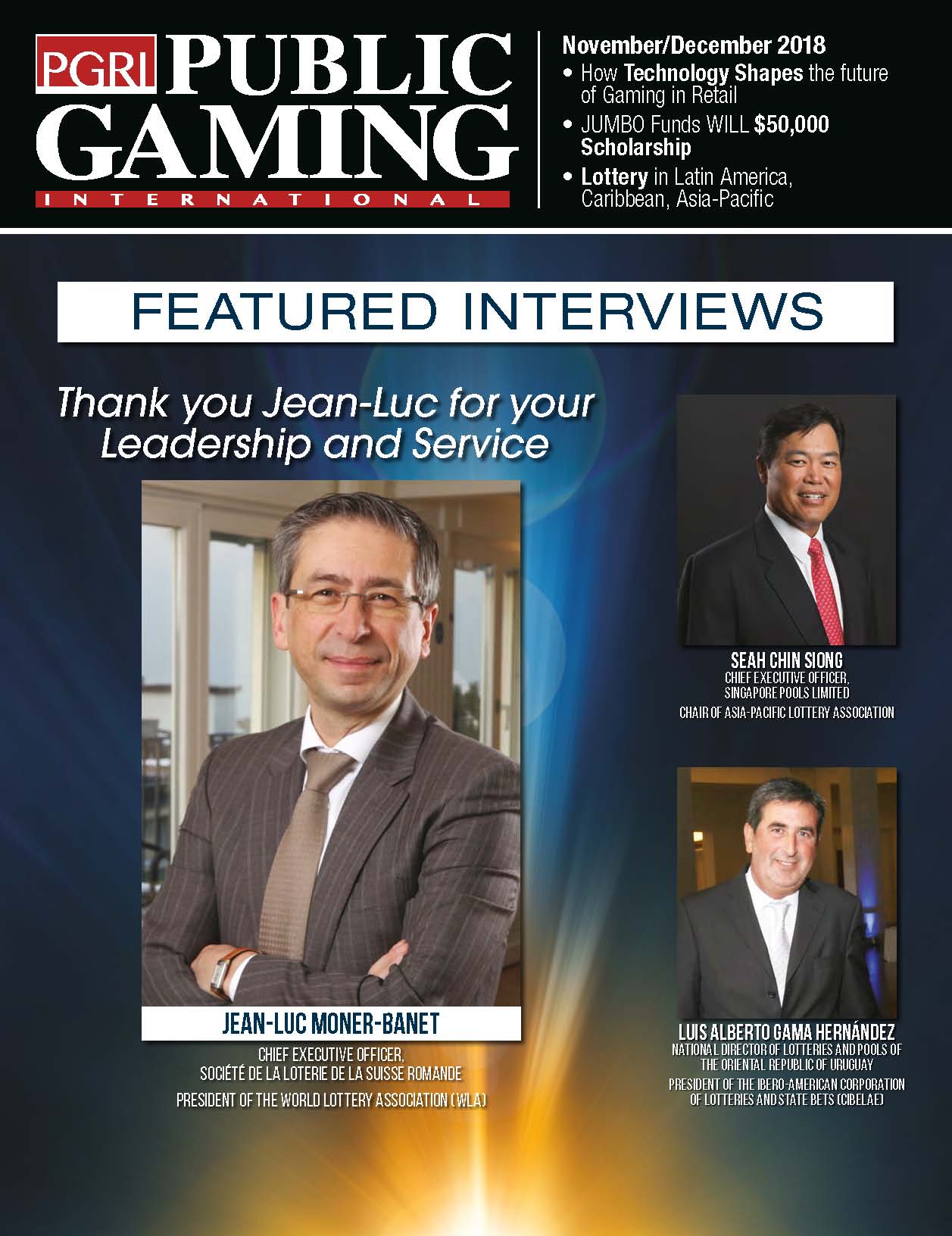 LIVING IN AN EVOLVING WORLD
Technology is the determining factor of today in all aspects of life; it gears evolution, it simplifies life and offers new opportunities. From everyday tasks to media content consumption and from goods purchasing to games of chance playing, the digital world is well-established:
more than 6 out of 10 consumers(*) globally prefer to conduct any task digitally, if possible, while online purchases are conducted by 60% and mobile purchases, through apps, by 29%; such purchases are not confined to the expected "digital" products and services, but also include goods that are easily found in physical stores.
Smartphones lead the way to digitalization, accountable for 53% of non-physical purchases and for 64% of daily media content consumption. Taking a step further, innovative technologies, such as virtual reality, seem exciting, especially when offering tangible benefits: almost 5 out of 10 would be willing to use virtual reality to navigate a personalized in-store experience and shop hand-picked products without being physically present while virtual assistants are already used by 16% of global consumers.
Although digitalization's eminent presence in everyday life, consumers still value physical interaction to a great extent. For example, the notion of receiving guidance and advice on personal or professio-nal matters by an artificial intelli-gence system is appealing to less than 3 out of 10 consumers; meanwhile, less than 4 out of 10 would consider using internal sensors/implants to augment their senses and capabilities.
Physicality and tangibility are quite strong when it comes to making purchases, mainly due to global retailers' persistence, who seem to prefer more "traditional" ways of operating: only mainstream technological applications are used by 7 out of 10 retailers while almost 3 out of 10 do not engage in any digital activity at all [e.g. social media, online site, mobile app, etc.]. More than half of retailers also demonstrate strong preference to cash, as a means of payment, even if its share of contribution to stores' turnover does not exceed 40%. As a side-result, physical purchases are still conducted by 9 out of 10 consumers and cash is the core payment method used by 70%.
A multi-geared world offers alternative solutions and, as such, the same person may easily shift from the digital to the physical world. Even if technology has become an everyday necessity, consumers recognize that there is life without it, to a great extent, as well. Less than half consumers get anxious when they can't have access to the internet, while, even though heavily used in everyday life, electronic devices are not perceived as indispensable by 5 out of 10.
ARE GAMES OF CHANCE MULTI-GEARED, TOO?
As we all know, digitalization of gaming is an established and evident trend nowadays, in line with all other aspects of contemporary life; online betting penetration has already reached 36% among players while, mobile betting through apps, 20%.
What is most important, players around the globe tend to demonstrate a more tech-integrated profile, beyond gaming as such. Players are more open and willing to endorse embrace technology in their everyday life and eager to enjoy its benefits to a much greater extent. At the same time, retailers that offer games of chance, except "exclusive" gaming retailers, demonstrate a more high-tech profile, as well. For them, eagerness to push their business forward leads them to advanced technology integration [53% vs. 27% among total retailers], preference over non-physical ways of payment, higher online presence and investment in advanced store equipment, such as barcode scanners TV screens, vending and self-service terminals and of course, gaming terminals.
On the other hand, traditional gaming channels are a core ingredient of the market mix, as well. Exclusive lottery-offering retailers tend to address the more classic, less tech-savvy player, using technology applications for their own convenience, rather than as part of the user's experience. As a result, most players, along with online or mobile access means, tend to also visit physical locations, especially for betting & number games.
In sum, physical and digital channels coexist, each attracting a core group of players that feels at ease with it, while at the same time, there is an enlarged group that represents the majority of players, which can easily "transcend" the barriers of the two worlds and adapt to both the physical and the digital experience according to the occasion. In this context, the gaming market seems to be successfully and seamlessly leading the way towards digitalization, while maintaining a strong and robust physical presence.
WHAT DOES THIS MEAN FOR THE FUTURE OF THE GAMING MARKET?
Today's reality demands for "co-existence", rather than segregation, and adaptation rather than rejection. Operators are called upon to develop platforms that enable smooth and seamless customer experiences offering similar excitement and total effect in the physical and the digital worlds.
To this respect, INTRALOT focuses its product development on the customer experience, either digital or physical, aiming at supporting operators worldwide in their dual role.
At the same time, digitalization is clearly becoming an asset for any operator that understands the current dynamics of the gaming market, wants to expand their reach to new audiences or offer new alternatives to existing clientele. INTRALOT has decided to invest in an entire new generation of products enabling lottery digital transformation, including the new lottery central system solution and the new betting platform. INTRALOT's new investments are based on a holistic approach the involves cross-platform and cross-vertical infrastructure, facilitating, thus, fast go-to-market and reducing total cost of ownership for the operators.
(*) THE PROFILE OF THE STUDY
A quantitative online study conducted via distinct pre-structured questionnaires that addressed 11.000 consumers, aged 18-54 y.o., residents of urban centres, in 11 countries and 2.107 retailers, either involved in gaming or not, in 12 countries, across 5 continents (North America, South America, , Europe, Asia and Australia), during August and September 2017. The study was led by Focus Bari S.A., a leading Greek market research agency, with the cooperation of SSi and Isra Center.