Winstation30
The new breed of vending machines
Winstation30 is the next generation of ITVMs, the only vending machine in the lottery industry able to dispense up to 30 different kinds of scratch tickets with a simple "push of a button". It is designed specifically for the sales of scratch tickets, draw-based games (DBG) and terminal instants. This powerful, simple and stylish vending machine redefines the Lottery's positioning in the retail vending world; the semi-attended, in-door nature of the machine allows it to capitalize on the "Impulse-buy" concept, further enhanced through the display of targeted advertising campaigns.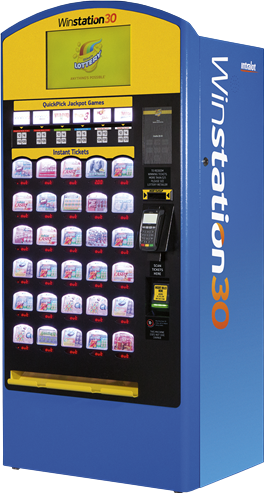 Through the Winstation30, Lotteries can offer their customers a wide range of terminal based games. These include:
• Physical Scratch Tickets
• Draw Games: Numbers games, In-state Lotto, Multi-state Lotto
• Fast Play games: Instant Terminal Based Games
Winstation30 hosts a vast variety of features ranging from terminal security to alternative participation options, allowing it to be installed into almost any retail infrastructure for customer engagement.
Winstation30 allows players to engage through various means of participation such as direct cash or cashless deposits, temporary account or a player's card and provide a printed receipt via the integrated thermal printer. Printed tickets can be checked using the integrated barcode reader and winnings can be loaded back to the player's account.
Product Description
Features:
• 19" monitor able to display any kind of multimedia content and digital signage
• 10,1'' TFT touchscreen monitor to the player
• Banknote validator for all international banknotes
• Playslip scanner
• High Speed Thermal Ticket/Receipt Printer
• Reinforced door with safety lock
• Full length door locking mechanism for extra security
• Electronic door access sensors
• Remote alarm activation for anti-vandalism protection
• Customized Full Wrap Graphic Exterior Design
• Coin validator for all international denomination (option)
• Cashless bank card and contactless payment (option)
Offered services:
• Self-service gaming
• Ticket checking and processing
• ADA compliant
Key benefits:
• Placement flexibility: Winstation's30 autonomous operation allows it to be placed in indoor semi-attended locations like hypermarkets and spacious grocery stores, shopping malls, hotel and airport lobbies, bars, clubs etc.
• Supports round-the-clock digital signage, enables autonomous and interactive information gathering and reinforces self-service gaming
• Sales and loyalty increase: enrich player experiences on more occasions without further staff involvement.
• Increased productivity: Increases retail staff productivity by allowing players to serve themselves
• Player base expansion: appeals to all players used to traditional "push-a-button" purchases including young, tech-savvy generations and impulsive individuals


View also