Dreamtouch Lite X
Futuristic design, unique gameplay experience
DREAMTOUCH Lite X is an innovative gaming kiosk designed to create a compelling user experience and to intercept users in a wide range of venues, from stadiums and retail stores to pubs and airports. It features a new industrial design that benefits from enhanced modern aesthetics to catch players attention and be pleasing to both users and operators, while increasing portability.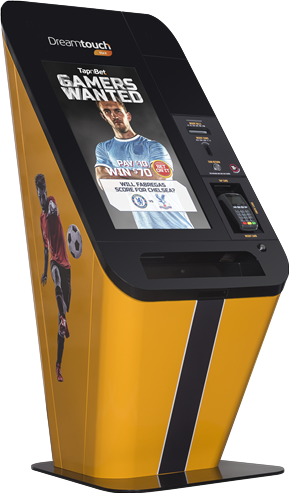 DREAMTOUCH Lite X, is hosting TAPnBET innovative concept of prefilled bet-slips that makes gaming easy and fun to the player, especially for those not accustomed to the betting process. At the same time, it provides a vehicle for on-screen advertising and promotion module with programmable rich multimedia content and call to action messaging to the player (e.g. information, how-to-play instructions etc.).
The main attraction and key point of DREAMTOUCH LITE X is its vertically inclined large full HD touch- screen that ensures increased visibility and wide viewing angle making the terminal approachable to passing by players, while it simulates the gaming experience which is usually gained via smartphones and other handheld devices.
Product Description
Features:
• Full HD 32" Player Touch Screen
• Barcode Reader
• High Speed Thermal Ticket/Receipt Printer
• Multi-Currency Bill Acceptor with High Security Lock
• Coin Acceptor
• Credit/debit card POS payment
• Secure Internal Hinge Cabinet with High Security lock
• Customized Full Wrap Graphic Exterior Design
Offered services:
• Self-service gaming
• Round the clock advertising / digital signage

Supported betting games:
• Single bets / Event-based
• Predefined multipliers / accumulators
• SpinBet

Betting coupons:
• Ready-made betslips
• Win Big
• Popular
• Favourite
• Daily
• Cross-sport
• Last-minute
Key benefits:
• expansion: appeals to all, including young, tech-savvy generations and impulsive individuals
• Player base expansion: appeals equally to non-expert sports betting punters and regular players, including young, tech-savvy generations and impulsive individuals
• Sales and loyalty increase: enriches player experiences without further staff involvement
• Placement flexibility: retail shops, stadiums, pubs, grocery stores, airports, etc.
• Content Management effectiveness: operators decide on what set of events and markets to offer based on popularity and geographic interest
• Yield Maximization: through customer base expansion and risk diversification achieved by employed high-margin markets per sport