"A year later: Revisiting the Ohio Lottery Cashless Project"_NASPL_Insights-March/April 2020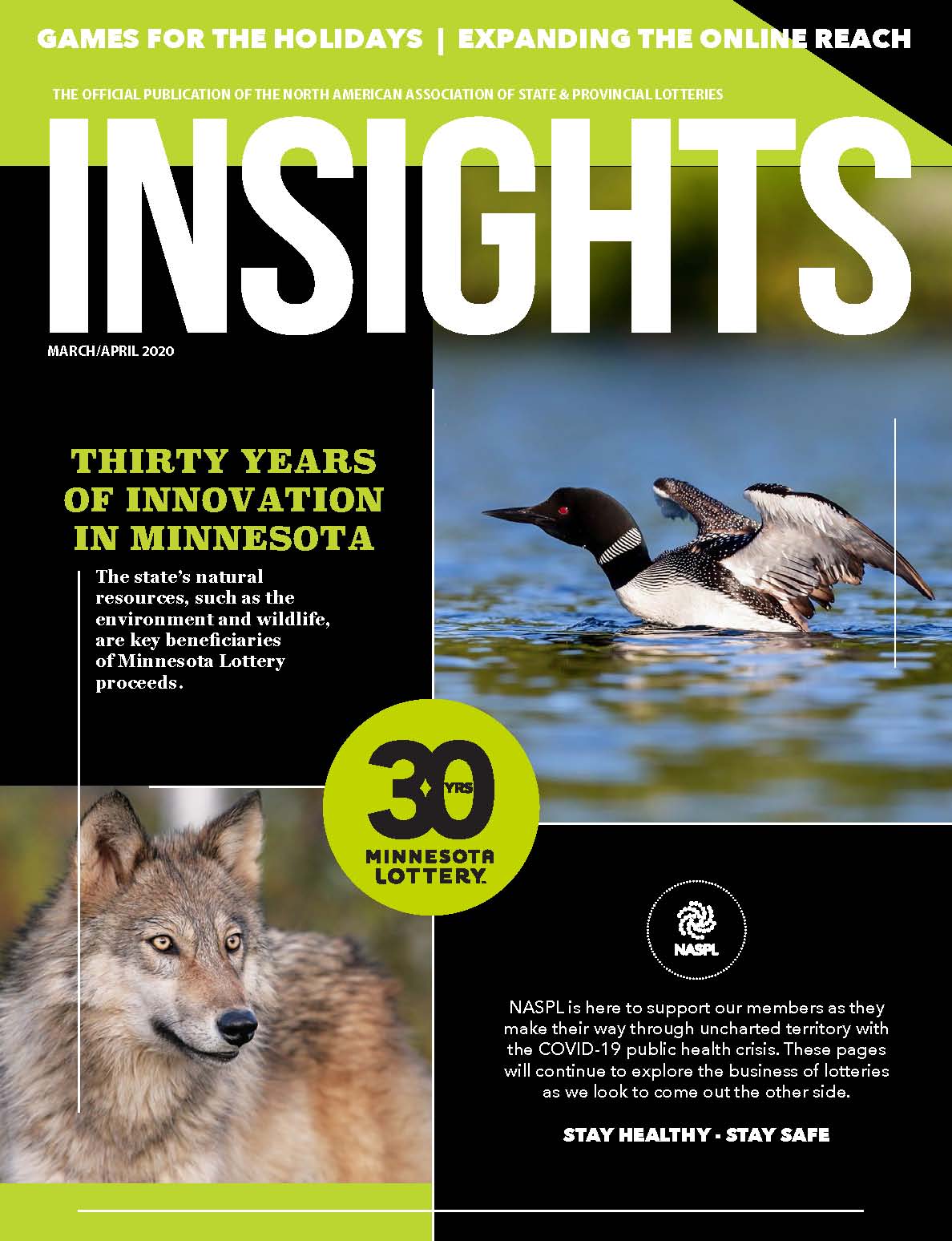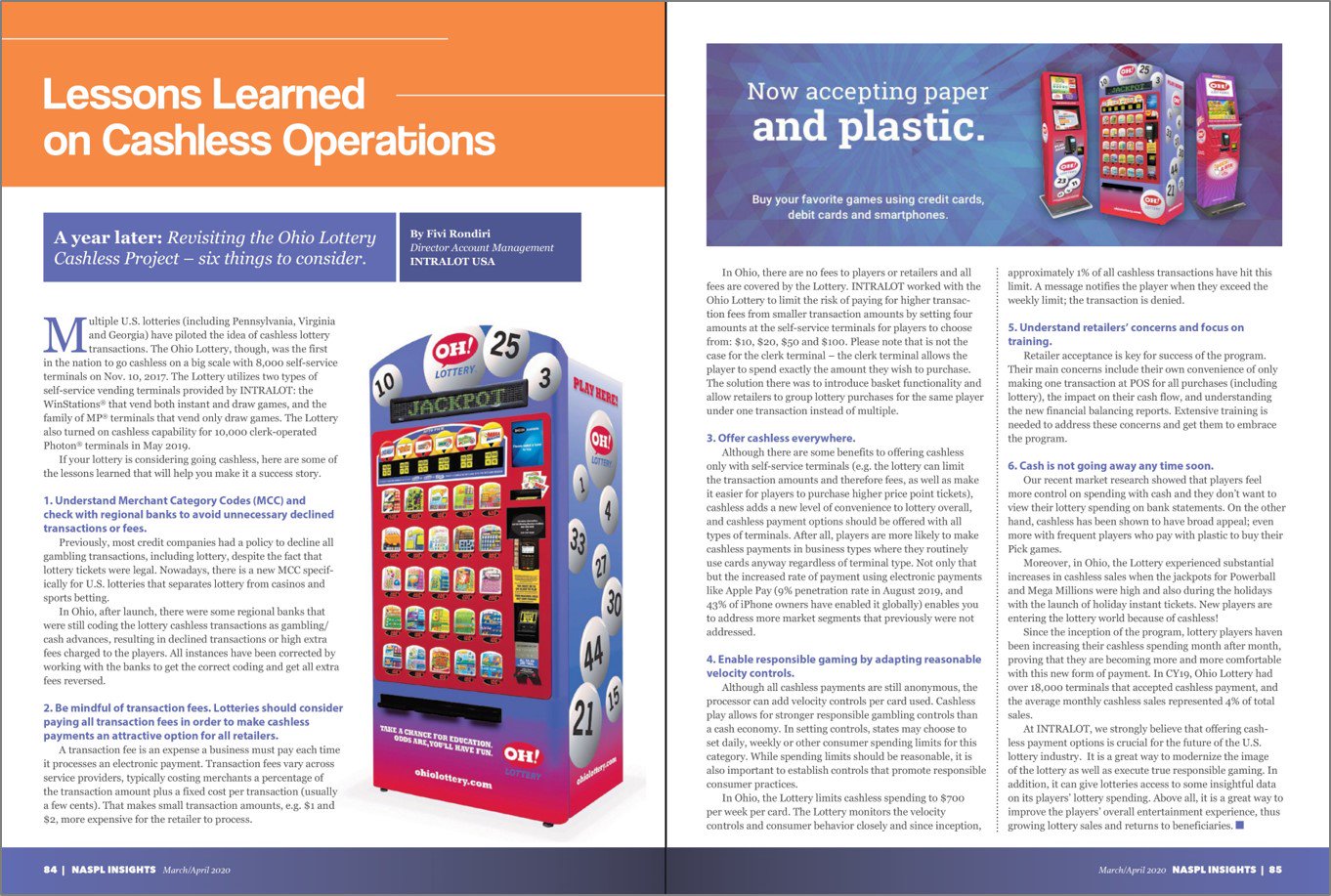 "A year later: Revisiting the Ohio Lottery Cashless Project - six things to consider when launching cashless"

by Fivi Rondiri, Director Account Management, INTRALOT USA

Multiple US Lotteries (Pennsylvania, Virginia and Georgia) have piloted the idea of cashless lottery transactions. Ohio Lottery, though, was the first in the nation to go cashless in a big scale with 8,000 self-service terminals on November 10, 2017. The Lottery utilizes two types of self-service vending terminals provided by INTRALOT: the WinStations® that vend both instant and draw games and the family of MP® terminals that vend only draw games. Then the Lottery also turned cashless on for 10,000 clerk operated terminals called Photons® in May 2019.

If you are considering going cashless, here are some of the lessons learned that will help you make it a success story.

1. Understand Merchant Category Codes (MCC) and check with regional banks to avoid unnecessary declined transactions or fees.
Previously, most credit companies had a policy to decline all gambling transactions including lottery despite the fact that lottery tickets were legal. Nowadays, there is a new MCC specifically for US Lotteries that separates lottery from casinos and sports betting.
In Ohio, after launch, there were some regional banks that were coding the lottery cashless transactions as gambling/cash advances, resulting in declined transactions or high extra fees charged to players. All instances have been corrected by working with the banks to get the correct coding and have all extra fees reversed.

2. Be mindful of transaction fees. Lotteries should consider paying all transaction fees in order to make cashless payments an attractive option for all retailers.
A transaction fee is an expense a business must pay each time it processes an electronic payment. Transaction fees vary across service providers, typically costing merchants a percentage of the transaction amount plus a fixed cost per transaction (usually a few cents). That makes small transaction amounts e.g. $1 and $2 more expensive for the retailer to process.
In Ohio, there are no fees to players or retailers and all fees are covered by the Lottery. INTRALOT worked with the Ohio Lottery to limit the risk of paying for higher transaction fees from smaller transaction amounts by setting four amounts at the self-service terminals for players to choose from: $10, $20, $50 and $100. Please note that is not the case for the clerk terminal - the clerk terminal allows the player to spend exactly the amount they wish to purchase. The solution there was to introduce the basket functionality and allow retailers to group lottery purchases for the same player under one transaction instead of multiple.

3. Offer cashless everywhere.
Although there are some benefits with offering cashless only with self-service terminals (e.g. the lottery can limit the transaction amounts and therefore fees as well as make it easier for players to purchase higher priced point tickets), cashless adds a new level of convenience to lottery overall, and cashless payment options should be offered with all type of terminals. After all, players are more likely to make cashless payments in business types where they routinely use cards anyway regardless of terminal type. Not only that but the increased rate of payment in electronic payments like Apple Pay (9% penetration rate in August 2019 and 43% of iPhone owners have enabled it globally) enables you to address more market segments that previously were not addressed.

4. Enable responsible gaming by adapting reasonable velocity controls.
Although all cashless payments are still anonymous, the processor can add velocity controls per card used. Cashless play allows for stronger responsible gambling controls than a cash economy. In setting controls, states may choose to set daily, weekly or other consumer spending limits for this category. While spending limits should be reasonable, it is also important to establish controls that promote responsible consumer practices.
In Ohio, the Lottery limits cashless spending to $700 per week per card. The Lottery monitors the velocity controls and consumer behavior closely and since inception, approximately 1% of all cashless transactions have hit this limit. A message notifies the player when they exceed the weekly limit; the transaction is denied.

5. Understand retailers' concerns and focus on training.
Retailer acceptance is key for success of the program. Their main concerns include their own convenience of only making one transaction at POS for all purchases (including lottery), the impact on their cash flow, and understanding the new financial balancing reports. Extensive training is needed to address these concerns and get them to embrace the program.

6. Cash is not going away any time soon.
Our recent market research showed that players feel more control on spending with cash and they don't want to view their lottery spending on bank statements. On the other hand, cashless has been shown to have broad appeal; even more with frequent players who pay with plastic to buy their Pick games.
Moreover, in Ohio, the Lottery experienced substantial increases in cashless sales when the jackpots for Powerball and Mega Millions were high and during the holidays with the launch of holiday instant tickets. New players are entering the Lottery World because of cashless!
Since the inception of the program, lottery players haven been increasing their cashless spending month after month, proving that they are becoming more and more comfortable with this new form of payment. In CY19, Ohio Lottery had over 18,000 terminals that accepted cashless payment, and the average monthly cashless sales represented 4% of total sales.
At INTRALOT, we strongly believe that offering cashless payment options is crucial for the future of the U.S. lottery industry. It is a great way to modernize the image of the lottery as well as execute true responsible gaming. In addition, it can give lotteries access to some insightful data for its players' lottery spending. After all, it is a great way to improve the players' overall entertainment experience, thus growing lottery sales and returns to beneficiaries.