LotosX
Revolutionize your Lottery operation
To meet the growing demand for rich content, INTRALOT has developed a new, open and modular ecosystem that enables operators to offer secure, reliable, flexible and seamless gaming services in a time and cost-efficient manner.
Main functionalities

Game Configurator
Everything starts with designing the most fascinating game! LotosX offers ready to launch preset game family templates – supporting all numerical, passive and instant games – to facilitate the creation of new products in detail (i.e. prize structures, game mechanics, matrices, etc.). Games can be characterized as main, secondary, multi-jurisdictional or add-ons, and can be combined.
During further configuration, operators have the opportunity to apply any business rule on the game and parameterize it using risk management options to safeguard game payout and offer players a seamless omnichannel experience.

Game & Draw Lifecycle Manager
A great functionality used primarily to define regular draw schedules in detail and any deviation with ad-hoc draws for special occasions. Operators have access to all consoles and tools required to efficiently manage their day-to-day operations, including real-time sales' performance monitoring, wager operations' control, draw closures, winner seeking, and payment authorization.

Channel Manager
A truly omnichannel offering, LotosX enables operators to seamlessly parameterize all sales channels, taking into consideration the special characteristics and capabilities of each touchpoint, and introduce various means of participation, including quick-pick options, product bundles, subscriptions, syndicates, and group play.
Optimizing player experience with LotosX Promotions
Having mapped the entire customer journey, LotosX Promotions identified all opportunities operators may have to incentivize players, increase engagement, and maximize retention.

Using a wizard-like functionality, operators can design generic, transaction-triggered and performance-based promotions. They can also use pre-configured or tailor-made rules, offering a wide variety of outcomes to meet all player preferences.
More enhanced than ever before and applying personalization and behavioral merchandising strategies, LotosX Promotions offers advanced and diverse outcomes, including Lottery and non-Lottery products, monetary and non-monetary gifts, bonuses, and vouchers or any combination of the above.
Read more about LotosX Promotions
Enhanced gaming functionality with the LotosX IGMS module
LotosX IGMS (Instant Game Management System) is designed to meet Lottery needs towards a profitable product offering. Core platform functionalities include game configuration and administration.
Simplified user flows for product managers and marketing teams cover the complete product lifecycle of each Instant, from initial distribution to initiation of sales, and from prize payments and financial control of the products to physical ticket withdrawal from the retail stores.
Read more about LotosX IGMS

Why LotosX
Completely parametrical across all games and draw lifecycle management.
Ready to integrate with any existing ecosystem through APIs, while being pre-integrated with all products and services offered by INTRALOT Lottery Solution.
Infrastructure agnostic, ready to offer on-premise cloud and hybrid deployment scenarios.
Designed with future-proof, state-of-the-art technology (micro-services based).
Scalable and easily expandable.
Minimizes required software updates down to structural changes.
Offers end-users a truly omnichannel experience by allowing the same game to be served from multiple interfaces, meeting the specific needs of each channel.
Ensures security and reliability at all levels.
Provides real-time financial, monitoring and reporting services.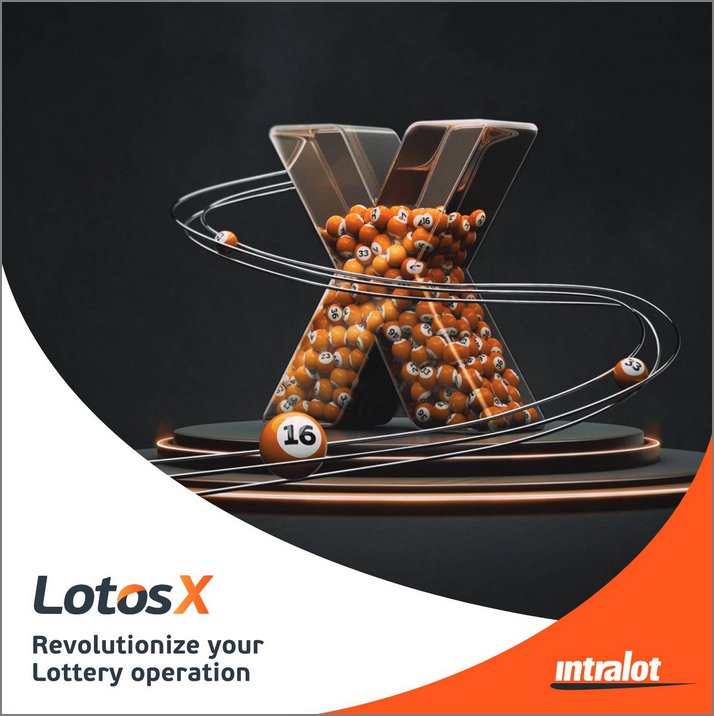 Brochure