Delivering a personalised holistic experience in a phygital world_PGRI_March-April 2019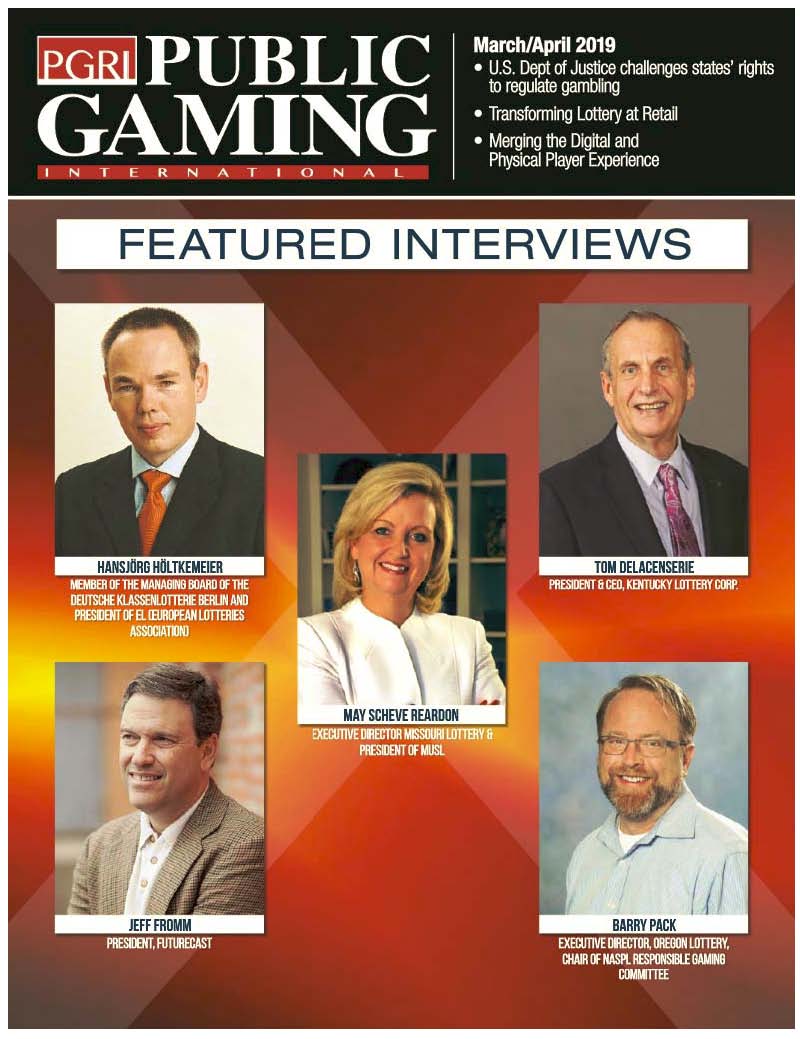 by Dimitris Kakos, Group Lotteries and Digital Transformation Director, INTRALOT

Technological advancements gear evolution, simplify life, change customer habits and evolve trends. From media content consumption to goods purchasing and games of chance playing, the digital world is well-established where consumers expect to be able to interact and access information regardless the time, the place or the mean. Research shows that 6 out of 10 of consumers globally prefer to conduct any task digitally, if possible, while online purchases are conducted by 60% and mobile purchases by 29% with the use of apps (*).

Most importantly, players around the globe are more willing to embrace technology in their everyday life and eager to enjoy its benefits to a much greater extent. At the same time, retailers that offer games of chance, except "exclusive" gaming retailers, demonstrate a more high-tech profile, as well. For them, eagerness to push their business forward leads them to advanced technology integration [53% vs. 27% among total retailers], preference over non-physical ways of payment, higher online presence and investment in advanced store equipment, such as barcode scanners TV screens, vending and self-service terminals and of course, gaming terminals. This results to a coexistence of physical and digital channels, each attracting a core group of players that feels at ease with it, while at the same time, there is an enlarged group, which can easily "transcend" the barriers of the two worlds and adapt to both the physical and the digital experience according to the occasion. In other words, players seek for a holistic approach; the ability to play games through different sales channels, where they experience a seamless journey across them in the simplest and most convenient way.

In this context, the gaming market seems to be successfully heading its way towards digitalization, while maintaining a strong and robust physical presence through retailers. What drives the future of retail is the need to blend digital and physical experiences, as the borders between digital and physical are disappearing in the mind of the consumer. Introduction of interactive and mobile technologies to the lottery industry can increase sales through all channels of distribution by leveraging sales across different channels and engage new players. Considering customer experience as a critical factor for success, vendors are creating systems that will deliver thrilling gaming experiences to customers that will not only attract and engage them, but it will also turn them to loyal players.
INTRALOT, always positioned at the forefront of the gaming industry, has taken into consideration the above trends and has developed a new, open and modular lottery ecosystem that enables operators to offer secure, reliable, flexible and seamless gaming services in a time and cost-effective manner. Furthermore, INTRALOT focuses its product development on the customer experience, either digital or physical, aiming at supporting operators worldwide. INTRALOT's Lottery Solution offers them the ability to fully configure, parametrize and expand the entire operation.
Built on an open, future-proof micro services architecture and with centralized orchestration, the Lottery Solution allows for flexible and fast integrations. New games are configured in the most simple and parametrical manner by using predefined generic templates. These templates allow new games to be added, launched & distributed at any time with minimum cost, training needs and time-to-market. It is a player-centric solution designed to serve successfully each stage of the player's journey with built-in business intelligence tools to support online, mobile and retail channels offering a holistic and seamless experience as part of our Lotteries' digital transformation strategy.
In the heart of INTRALOT's Lottery Solution lies Lotos X, the most parametrical Games and Draw management platform. It enables lottery operators to design, configure and implement their entire gaming offering as well as their planned portfolio expansion. It is based on a holistic approach that involves cross-platform and cross-vertical infrastructure, facilitating fast go-to-market and reducing total cost of ownership for the operators. Lotos X is ready to be integrated with any existing ecosystem through open APIs and is infrastructure-agnostic, ready to offer on-premises, cloud and hybrid deployment scenarios. It is designed with future-proof state-of-the-art technology (micro-services based), while offers a true omni-channel experience to the end user by allowing games to be served through multiple touchpoints, satisfying every channel's specific business needs. Enhanced with personalization and behavioral merchandising strategies, Lotos X Promotions may offer outcomes that are lottery or non-lottery products, monetary or non-monetary gifts, bonuses, vouchers or any combination of all the above to deliver enhanced customer experience.
The lottery industry on its way to the digital era, is becoming more sophisticated and demanding. Lotteries require scalable, easily expandable and completely parametrical solutions, able to integrate with any existing ecosystem. They look for reliable and flexible solutions, fast go-to-market capabilities along with immediate business intelligence features and most of all solutions that are capable to deliver seamless customer experiences.
Addressing the lottery industry needs, INTRALOT introduces Lotos X, as a result of constant evolution, R&D investment and an absolute commitment to operational excellence and integrity across all aspects of the gaming experience.
(*) from an online study led by Focus Bari S.A., a leading Greek market research agency, with the cooperation of SSi and Isra Center during August and September 2017.