Interview | Chris Dimitriadis, INTRALOT Group CEO at Yogonet, August 2020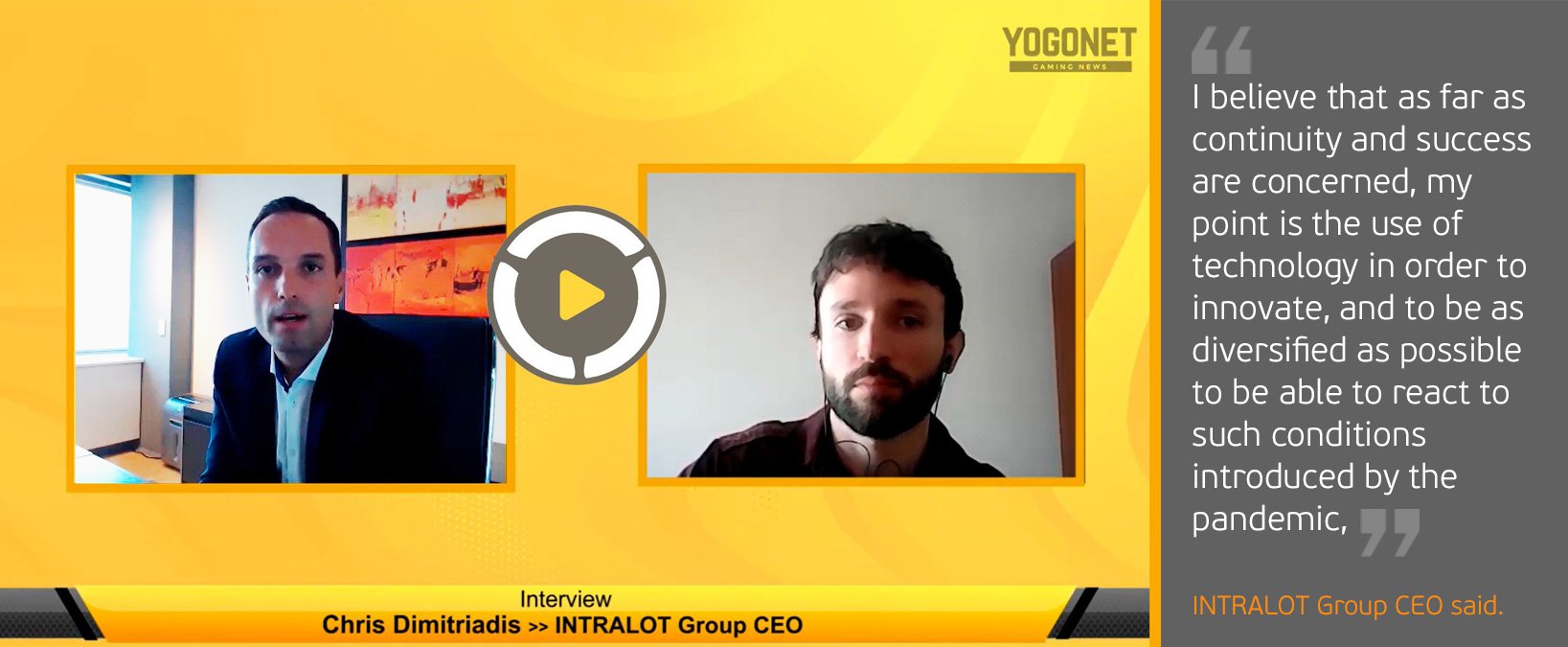 (Exclusive interview). - INTRALOT Group CEO Chris Dimitriadis spoke to Yogonet
"The most important demand we've seen from operators is diversification"
INTRALOT Group CEO said the most successful offering is the diversified offering. He believes the gaming industry is lagging behind in introducing digital technologies to transform the lottery and sports betting industries, with the younger generations "really keen on finding new ways for entertaining themselves." He sees growth potential in eSports, iLottery due to demographic changes, and in the US sports betting, where INTRALOT is "intensively working" to grow.
INTRALOT, one of the leading gaming industry providers, partners of lotteries worldwide and sports betting operators, saw no disruption in the business (in terms of the ability of the company to serve its customers) since the pandemic outbreak, and focused on diversifying its portfolio first, according to its Group CEO Chris Dimitriadis.
The company also kept investing on its Internet betting solution, and conducting research "in order to prepare for the next day, because we strongly believe that this pandemic may end in a few weeks, in a few months. Nevertheless, the effects of the pandemic are long term. And we also analyzed the macro parameters, the macroeconomics of such events in order to make sure that we adapt, change, and that we are ready for them for the new demand that is being created both by players and operators," Dimitriadis told Yogonet in a video interview.
In addition, INTRALOT made sure to digitally transform the retail channel: "We have bundled our existing technologies and we have also improved them in order, for example, to be able to offer a touchless journey through the use of mobile apps that interface with the endpoints within the retail shop," he explained, adding that cashless and paperless methods were rolled out. In terms of digital transformation, INTRALOT focused on data, understanding the player and both the retail and online environment better.
"As far as lotteries are concerned, what we've seen there, especially in the United States, was growth and increase of performance," Dimitriadis said. "And we interpret this more as a shift of the players from those industries, where there was a complete shutdown like in casino and sports betting industries, moving to the lottery industry." In that sense, INTRALOT built a brand-new digital lottery solution, Lotos Xi, which allows diversifying portfolios further, to introduce a channel on top of retail, and to be able to offer lottery games and draws on top of the retail channel, which may have been shutdown during that period.
Dimitriadis believes that there is a lot of work to be done in the gaming industry, which is lagging behind in terms of introducing digital technologies, and ushers in transformation and innovation both in the lottery and sports betting industry. He sees the pandemic as an accelerating force that was more of a shock, while he believes the most successful offering is the diversified offering.
"The real change that we've seen is a result of the analysis of age demographics. So we've seen that the older generations very quickly started to adapt to digital technologies," he said, including the use of mobile apps, the web channel, in order to participate in lottery games, for instance. The company has also noted that the younger generations are "really keen on finding new ways for entertaining themselves," which brings the need for a very diversified offering that keeps people engaged, "so they don't get bored with the same offering within this industry." In that sense, he said the use of digital technologies, mobile apps, are key to engage the younger generation in these particular industries.
Furthermore, the Group CEO said the new demands from the operators were continuity, with technology playing a key role to innovate, and diversification. "So we've seen the traditional lotteries looking for iLottery solutions. We've seen lottery operators thinking about sports betting, a way to be licensed for sports betting."
When asked about areas with potential growth in the industry, he said there is a future in eSports, citing a projection for a $1.1 billion industry this year, representing about a 15% growth since last year. He also sees a great opportunity in US sports betting, where the studies are projecting a $5.5 billion industry from 2023 and on, in terms of gross revenue. And he also sees a lot of room for improvement in the US lottery sector, especially through iLottery, which he considers a great opportunity as well. "Not only because it's a response to the pandemic, but mainly because of demographic change and the generations that are coming behind us, who are really keen on using technologies, using their endpoints to entertain themselves."
The US sports betting market is one of the primary focus areas of INTRALOT's strategy, Dimitriadis said, and it has recently reorganized the company there in order to be able to meet the new demand. "We strongly believe that there is an enormous opportunity for growth there. In order to achieve growth in such a highly regulated market as the United States, you have to be ready in terms of making sure that you have compliance capacity, that you follow the standards, that you understand what responsible gaming means, that you make sure that your conduct as a technology provider or as a company is according to the state-of-the-art, and this is one of the differentiating points for INTRALOT, in relation to smaller providers, that our brand name and the work that we did over the past years got us in a position to be able to serve such a highly regulated market as the United States. I see a lot of growth there, we are very intensively working into growing in the United States."