Canvas Signage
Creating engaging retail experiences
Canvas Signage is an integrated solution that provides top-quality management, delivery and playout for all game verticals in retail environments, ensuring real-time delivery of true dynamic content updates and optimal bandwidth usage.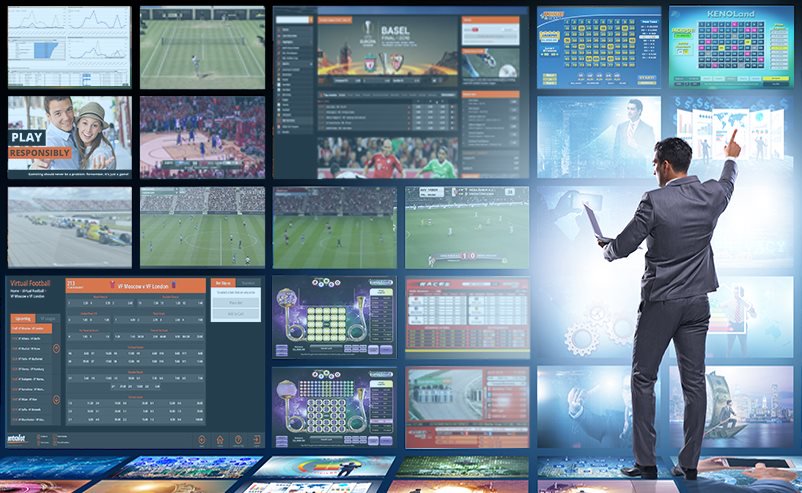 Built on top of the Canvas omnichannel CMS platform, it enables operators to centrally manage content, based on digital asset management, widget/ page/ playlist configuration management, and content play-out scheduling tools. Moreover, leveraging its built-in segmentation engine and in-store screen management capabilities, operators can centrally orchestrate filtered content viewing for each signage screen, thus generating an optimal player experience for each shop.
Fully integrated to INTRALOT terminals, Canvas Signage drives their embedded screens and connected Customer Display Units without using additional hardware. Additionally, it drives TV monitors located at any distance from the retailer terminal, via dedicated media player devices.

Key features & benefits
Scalability
Manages and delivers content to thousands of retail stores, meeting Lottery growth demands, in terms not only of retail network development but also of current retail stores' screens expansion.
Flexibility
Supports multiple types of in-store devices (from dedicated signage for players to retailer and self-service terminals) and screens.
Central-System Agnostic
Connects to any third-party Gaming Central System, using standard open interfaces, such as web services.
Customization
Offers tailored-made solutions with quick content localization and customization, as well as management environment configuration.
Real-Time Delivery
Ensures instant and flawless delivery of critical content, as well as controlled delivery of large media files.
Optimal Bandwidth Utilization
Uses advanced protocols for data broadcasting, resulting in reduced network resource requirements (i.e. telecommunication costs).
Cost Efficiency
Uses cost-efficient servers and media players and eliminates the cost of additional hardware for monitors connected directly to INTRALOT terminals.