INTELLIGENT AND INNOVATIVE SOLUTIONS FOR LOTTERY MODERNIZATION AT NASPL 2017
TRALOT announces its participation at the NASPL exhibition as top sponsor (Level I) with a booth that features end-to-end retail and online solutions addressingLotteries' modernization needs in the digital era. Separated in four areas, Retail Lottery, iLottery, Sports Betting, and Systems, the booth will host products and platform presentations designed to offer player engagement for all audiences and cater to retailer and operator needs with flexible reliable and secure solutions across verticals and channels.
The Retail Lottery area will host updates in technology and best-practices in clerk-operated countertop devices, self-service terminals and vending machines. Exhibits are designed to demonstrate how participation simplicity and consumer spontaneity are capable of boosting retail sales while modernizing spacious or limited footprint retail locations.
The iLottery section demonstrates examples of physical and digital channel convergence through a set of patent-awarded, native mobile applications offering Lottery and Instant Win Game content and gameplay on mobile devices.
For the first time on the NASPL trade show floor INTRALOT presents its products and services portfolio in Sports Betting that have secured INTRALOT's global leadership in this sector. Visitors will experience ergonomically designed Self-Service Betting Terminals featuring HD touchscreens, user-friendly interfaces, gripping content, and upgraded Virtual and pre-Recorded games delivered in HD and UHD game content.
In the Systems area, INTRALOT specialists will offer insights to a number of new platforms. Emphasis this year is placed on INTRALOT's novel CRM system, Pulse, offered in both Player and Retailer versions that secure increased player and personnel loyalty, transparency, rewards schemes, and, ultimately, lifetime value and sustainable growth through personalized offerings and diverse engagement activities.
The INTRALOT team will host two presentation sessions in its booth during trade show hours on Thursday, September 14. The 2pm session is titled "What Sports Betting can mean for State Lotteries" and the 5pm session is titled "Reshaping the Retail Universe".
Through its subsidiary, INTRALOT Inc., headquartered in Atlanta, Georgia, the INTRALOT Group is present in North America since 2002 and currently serves State Lotteries in 12 US States. Recent contract renewals in Ohio, Arkansas, Vermont, and Idaho contributed towards developing the US market into the Group's largest regional EBITDA contributor.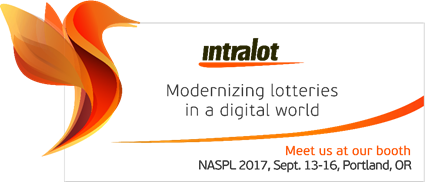 About INTRALOT
INTRALOT, a public listed company established in 1992, is a leading gaming solutions supplier and operator active in 55 regulated jurisdictions around the globe. With €1.32 billion turnover and a global workforce of approximately 5,300 employees (3,450 of which in subsidiaries and 1,850 in associates) in 2016, INTRALOT is an innovation – driven corporation focusing its product development on the customer experience. The company is uniquely positioned to offer to lottery and gaming organizations across geographies market-tested solutions and retail operational expertise. Through the use of a dynamic and omni-channel approach, INTRALOT offers an integrated portfolio of best-in-class gaming systems and product solutions & services addressing all gaming verticals (Lottery, Betting, Interactive, VLT). Players can enjoy a seamless and personalized experience through exciting games and premium content across multiple delivery channels, both retail and interactive. INTRALOT has been awarded with the prestigious WLA Responsible Gaming Framework Certification by the World Lottery Association (WLA) for its global lottery operations.
For more info:
Mr. Chris Sfatos, Group Corporate Affairs Director
Phone: +30-210 6156000, Fax: +30-210 6106800
email: sfatos@intralot.com – www.intralot.com