INTRALOT Australia Congratulates Lotterywest for their COVID-19 Relief Fund Initiative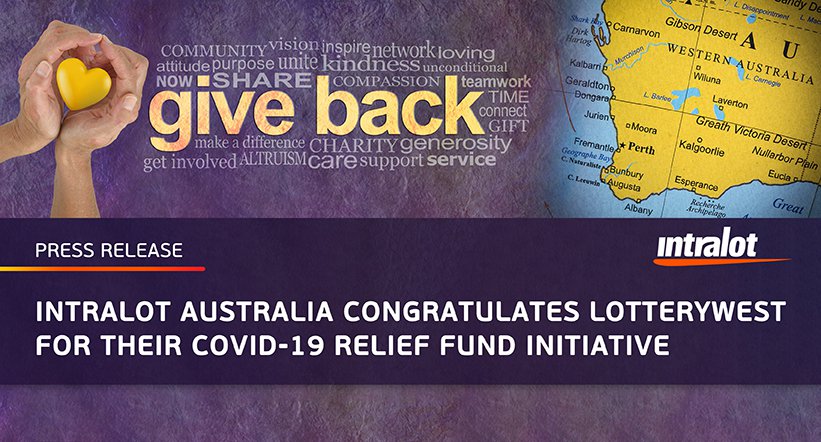 INTRALOT Australia, a subsidiary of INTRALOT Group, would like to congratulate our partners at Lotterywest, the State Lottery of Western Australia, on their relief fund initiative to ensure continued support for community groups impacted by COVID-19.
"We would like to congratulate Lotterywest for establishing a pandemic-solidarity response fund to support the wider Western Australian communities and economies affected by the COVID-19 outbreak. We look forward to continue working with Lotterywest and enable the lottery with our technology towards fulfilling its purpose in contributing to good causes," said Dr. Chris Dimitriadis, INTRALOT Group CEO.
"We have been privileged to be selected from Lotterywest since 2007 as its Technology Vendor and we are proud to be contributing all these years with our Gaming Technology. Lotteries globally provide funds to the local economies, communities, and vulnerable groups and Lotterywest's Covid-19 Relief Fund is proof of its social empathy and support," said Marios Mitromaras, CEO, INTRALOT Australia and INTRALOT Gaming Services.
Lotterywest has established a $159 million COVID-19 relief fund to provide support to organisations that are helping people experiencing hardship. All available profits Lotterywest makes from every jackpot, draw and ticket will go directly into this fund to assist the Western Australian community to recover.
About INTRALOT
INTRALOT, a publicly listed company established in 1992, is a leading gaming solutions supplier and operator active in 42 regulated jurisdictions worldwide. With a global workforce of approximately 3,800 employees in 2019, INTRALOT is committed to redefine innovation and quality of services in the lottery and gaming sector, while supporting operators in raising funds for good causes. Uniquely positioned to deliver state-of-the-art technology across geographies, the company has developed an advanced ecosystem that serves all verticals enabling the digital transformation of gaming operators and offering players an unparalleled gaming experience. INTRALOT has been awarded the prestigious Responsible Gaming Framework certification by the World Lottery Association and is certified under the WLA Security Control Standard. Visit us at www.intralot.com.
For more info: Mrs. Chryssa Amanatidou, Group Corporate Affairs Director
Phone: +30 2106156000, Fax: +30 2106106800, email: press_office@intralot.com