INTRALOT Presents its Next-Generation Products and Services at NASPL Exhibition / Cleveland Ohio
September 20th, 2018
INTRALOT ushers in the Digital Transformation era for Lotteries through its Next Generation of Products and services in its booth #124 as Level I associate partner at North American Association of State and Provincial Lotteries (NASPL) Annual Conference, on 25-28 September 2018, at the Huntington Convention Center of Cleveland. INTRALOT will present its novel Sports Betting and Lottery Solutions along with a variety of gaming technology innovations such as Cashless transactions, Retailer optimization, business analytics, in-Lane solution, superior Trading Managed Services and best in class terminals, including the newest self-service gaming solutions, such as DREAMTOUCH Lite, simplified betting concept of TAPnBET and WINSTATION 30, the first in the market vending machine with a capacity of 30 scratch tickets games.
INTRALOT's new Intelligent Ecosystem of Lottery and Sports Betting Solutions is designed to drive growth. Our solutions offer a personalized player's experience adhering to the principles of Responsible Gaming with flexible, reliable, and secure offerings to address Lotteries' modernization needs in the digital era.
New Sports Betting Solution in the World of Betting section
Our 25-years of experience in Sports Betting has guided the development of our next generation, flexible and scalable sports betting platform at the heart of an integrated Sports Betting Solution that incorporates advanced content, PAM, reporting and security functionalities. The platform offers pre-integration with multiple commercial feeds, event creation, markets pricing, resulting, and in-play incidents. Our CMS and PAM carry the latest security and transparency features, KYC and geo-fencing, and payment provider integration capabilities. The Sports betting solution with its cross-channel capabilities can easily integrate with the Lottery platform and provide both cross-selling opportunities and economies of scale to State Lotteries in the United States. INTRALOT's experience in running Sports Books covers more than 65 sports supported with different pricing models for over 24 sports, 24,000 In-Play events and 30,000 Pre-Game events per month capacity and more than 800 different market types. Our Betting entertainment portfolio includes Racing, Virtuals, and Pre-recorded propositions that increase player's life time value.
New Lottery Solution in the World of Lottery section
In the Lottery area, the latest version of flagship Retail Terminals are exhibited with Self-Service and Vending terminals offering major improvements to players' experience with their new features. The new INTRALOT Lottery Solution comprises new platforms, our CMS and our analytics software focusing on cross-channel functionalities and fast go-to-market, along with a modern touchpoint philosophy. With the use of Bluetooth/ WIFI technologies and mobile solutions, along with traditional retail solutions we transform customers' journey. The new mobile lottery native app offers players new ways to seamlessly prepare and submit playslips and deliver benefits for all digital game offerings. A new, fully responsive web-portal for all viewports and games expands operator presence in all online channels.
During the conference, INTRALOT's Executive members will discuss further on the Digital evolution and the complex challenges of Lotteries' modernization:
Antonios Kerastaris, INTRALOT Group CEO - will participate in the Associate Member Panel Discussion in the General Session on Wednesday, 26 September 2018, 10:45 a.m.-12:00 p.m. in Atrium Ballroom A/B of the Huntington Convention Center of Cleveland.
Nick Papadoglou, VP CCO, together with Mr. Scott Hoss, Senior Marketing Manager, INTRALOT Inc. will be presenting "Celebrating Ohio: A leading example of modernizing lotteries in a digital world." on Thursday, September 27, 2018, 10:15am -Associate Member Presentations (Level I) at Atrium Ballroom A/B, of the Huntington Convention Center of Cleveland.
INTRALOT's Group CEO Antonios Kerastaris stated: "We are very proud about the digital evolution of our portfolio and the next-generation, flexible, and scalable suite of products in Lottery and Sports Betting that we will be presenting during NASPL. Our geographic refocus on the developed markets and especially in North America provides tremendous potential and opportunities for growth to operators that can be easily achieved through our rich and diverse products and services portfolio and experience".
We invite you to experience a unique customer journey through the Lottery and Betting zones and learn more about our next-generation solutions designed to support Lotteries' modernization by focusing on simple holistic solutions. Our specialists will be available to offer insights about our player-centric approach.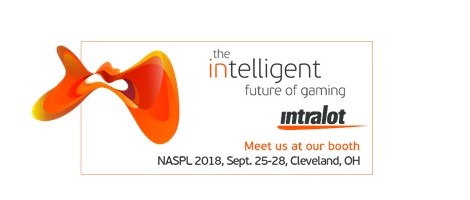 About INTRALOT
INTRALOT, a public listed company established in 1992, is a leading gaming solutions supplier and operator active in 52 regulated jurisdictions around the globe. With €1.1 billion turnover and a global workforce of approximately 5,100 employees (3,100 of which in subsidiaries and 2,000 in associates) in 2017, INTRALOT is an innovation – driven corporation focusing its product development on the customer experience. The company is uniquely positioned to offer to lottery and gaming organizations across geographies market-tested solutions and retail operational expertise. Through the use of a dynamic and omni-channel approach, INTRALOT offers an integrated portfolio of best-in-class gaming systems and product solutions & services addressing all gaming verticals (Lottery, Betting, Interactive, VLT). Players can enjoy a seamless and personalized experience through exciting games and premium content across multiple delivery channels, both retail and interactive. INTRALOT has been awarded with the prestigious WLA Responsible Gaming Framework Certification by the World Lottery Association (WLA) for its global lottery operations.
For more info: Mr. Chris Sfatos, Group Corporate Affairs Director, Phone: +30-210 6156000, Fax: +30-210 6106800, email: sfatos@INTRALOT.com - www.INTRALOT.com