INTRALOT introduces Next-Generation products and services for Digital Transformation
PRESS RELEASE
INTRALOT introduces Next-Generation products and services
for Digital Transformation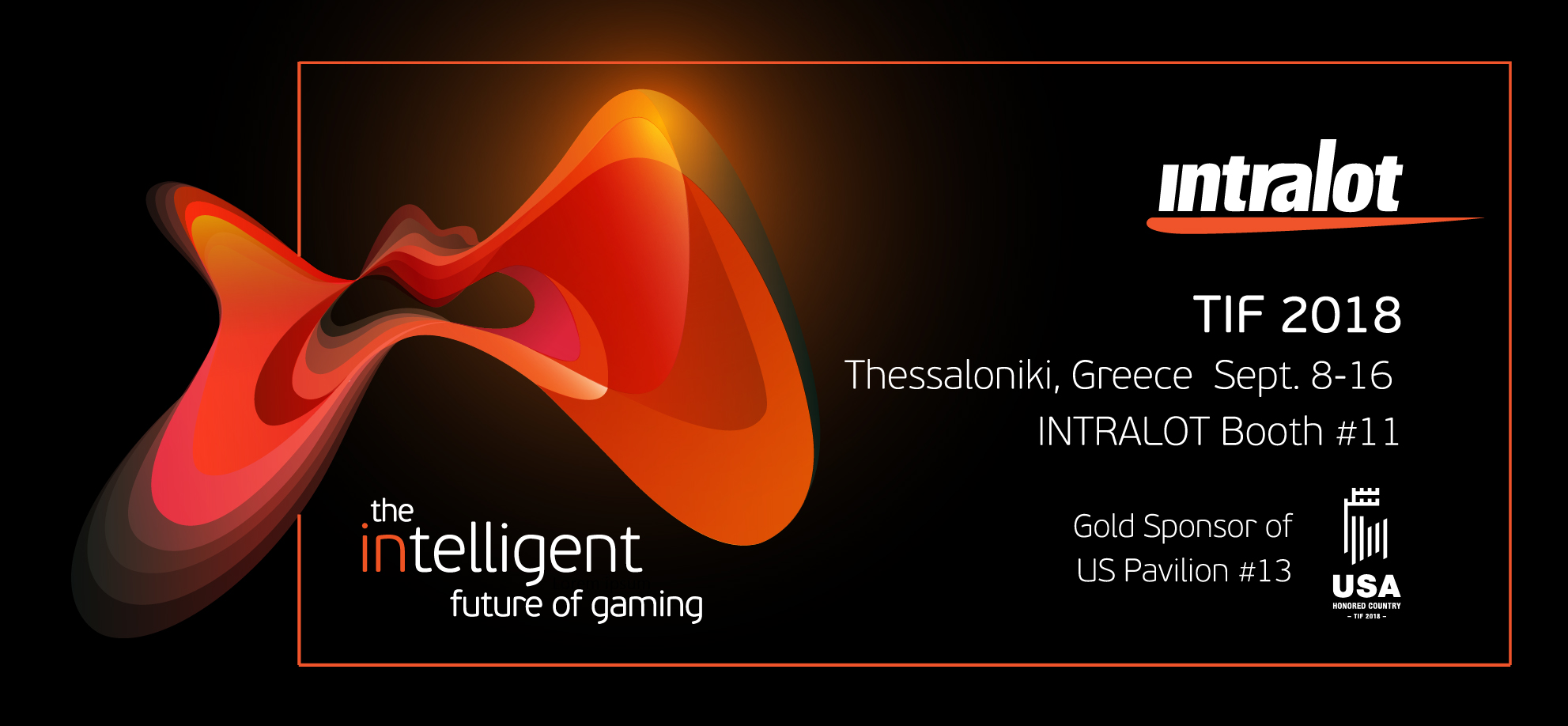 in
Thessaloniki International Fair,
Booth #11, in U.S. Pavilion #13
8-16 September 2018,
Thessaloniki Helexpo Center
September 6th, 2018
INTRALOT is honored and proud to participate in the 83rd Thessaloniki International Fair as a Gold Sponsor of the US Pavilion along with its prominent exhibitor's booth where the Next generation of products and services will be showcased. INTRALOT'S presence in the U.S. goes back to 2002; the year when its subsidiary headquartered in Atlanta was founded. Currently the company provides products and services to 12 states in the U.S., while in 2018 contracts with Wyoming, Vermont, Idaho, Arkansas and Ohio have been renewed. In addition, a new important agreement was signed in 2018 with Camelot for a 10-year contract at Illinois, with expected revenue for the entire period estimated at approximately $340M, for the provision of technology solutions and hardware for approximately 7,500 points of sales. INTRALOT has invested to date more than $500 M in the US, has a workforce of more than 800 employees in the U.S. and built a production plant in Ohio.
During the exhibition, INTRALOT will host two sessions in the Theater stage on the 8th of September at 17:00, titled "The Leading Player in a changing world of gaming presented by Nikos Nikolakopoulos, INTRALOT Group Chief Commercial Officer and "Enhancing Lottery Responsiveness to Player needs through Intelligent systems design" presented by Dimitris Kakos, INTRALOT Group Lotteries & Digital Transformation Director. Both presentations will provide the opportunity to its participants to visualize the future of the Digital Transformation for Lotteries and Sports Betting Operators. These new technology products and services, designed at INTRALOT's Innovation Center in Peania, showcase new customer-centric capabilities achieved through intelligent systems design. The advanced INTRALOT Lottery and Sports Betting solutions offer a personalized player's experience adhering to the principles of responsible gaming with flexible, reliable, and secure offerings to address Lotteries' modernization needs in the Digital era.
With this great opportunity, INTRALOT will be featuring its new Sports Betting Solution in the World of Betting section. Sports Betting solution with its unique features is designed to serve both online and retail offerings in the most efficient, uniform and simplified way, leveraging our long experience from betting operations in diverse markets worldwide and designed to address a growing number of upcoming market opportunities. The Betting Entertainment solutions scope to maximize content offering between sports betting events through racing, virtual and pre-recorded sports. Visitors will have the opportunity to also experience INTRALOT's mobile-optimized web-portal which delivers complete sportsbook functionality to players along with all the latest features of the betting market.
In the Lottery area, the latest version of flagship Retail Terminals are exhibited with Self-Service and Vending terminals offering major improvements to players' experience with their new features. With the use of Bluetooth/ WIFI technologies and mobile solutions, along with traditional retail solutions transform the customers' journey. The new mobile lottery native app offers players new ways to seamlessly prepare and submit playslips and deliver benefits for all digital game offerings. A new, fully responsive web-portal for all viewports and games expands operator presence in all online channels.
Cross-channel, cross-vertical solutions are significant achievements that we are proud to demonstrate in our booth. INTRALOT Canvas Retailer, the new, advanced, thin-client and web-based terminal software solution, enables operators to build a consistent user experience as well as to launch and modify games and content seamlessly, rapidly, and efficiently across touchpoints and defined device segments. INTRALOT Player Pulse, a player management and analytics system create loyal relationships with players for increased lifetime value. The benefits of the total solution are amplified by an upgraded Device Management System enabling remote management and IoT functionalities.
INTRALOT's Group CEO Antonios Kerastaris stated: "INTRALOT's overall strategy is to embrace digital evolution, anticipate the fast-changing needs of our consumers and clients and maintain our leadership position in the gaming industry. We believe that all these targets can be achieved by our new Intelligent Ecosystem of Lottery and Betting Solutions that will unlock tremendous opportunities. We feel very proud to have invested in a next-generation, flexible, and scalable suite of products that offer reliable solutions for growth to operators and responsible gaming entertainment to players."
Come and experience a unique customer journey through Lottery and Betting zones to discover the expanded portfolio of our next-generation solutions designed to support Lotteries' modernization by focusing on digital technology and holistic solutions. Our specialists will be available to offer insights and experiences around our player-centric approach of services and products.
About INTRALOT
INTRALOT, a public listed company established in 1992, is a leading gaming solutions supplier and operator active in 52 regulated jurisdictions around the globe. With €1.1 billion turnover and a global workforce of approximately 5,100 employees (3,100 of which in subsidiaries and 2,000 in associates) in 2017, INTRALOT is an innovation – driven corporation focusing its product development on the customer experience. The company is uniquely positioned to offer to lottery and gaming organizations across geographies market-tested solutions and retail operational expertise. Through the use of a dynamic and omni-channel approach, INTRALOT offers an integrated portfolio of best-in-class gaming systems and product solutions & services addressing all gaming verticals (Lottery, Betting, Interactive, VLT). Players can enjoy a seamless and personalized experience through exciting games and premium content across multiple delivery channels, both retail and interactive. INTRALOT has been awarded with the prestigious WLA Responsible Gaming Framework Certification by the World Lottery Association (WLA) for its global lottery operations.
For more info: Mr. Chris Sfatos, Group Corporate Affairs Director, Phone: +30-210 6156000, Fax: +30-210 6106800, email: sfatos@INTRALOT.com - www.INTRALOT.com